This beautiful pom pom garland will brighten up any room! Pom poms are a great craft for any beginner crafter. It's also great for family craft night so you can craft along with your little ones too!
Want to make this garland but don't have the supplies on hand? No problem! Make sure to check out The Craftic Shop and get the full craft kit. The kit includes everything you'll need to make a garland with up a dozen pom poms!
If you are using a Craftic Kit, you'll be using:
240 yards of 100% acrylic yarn in 6 colors (40 yards/each)
8 yards of golden 100% cotton yarn
2.5 yards of white cord
From your personal craft supplies (or kitchen cabinet):
scissors
cardboard (Amazon, cereal, any box will do!)
compass or round shape (3" in diameter)
Materials List
The following list has all the supplies and tools you'll need to make this project.
These affiliate links help to keep Craftic running at no extra cost to you. Thank you for your support! 💛
Step 1 - Let's Prepare Our Thread!
First, grab the golden yarn and cut it into 12 pieces measuring 2 feet each. You are off to a great start!
Step 2 - Let's Make Our Templates!
Get your cardboard or cereal box, scissors, compass, and pencil ready!
Step 2A - Draw Your Template
Use your mug / glass / round object that is 3" in diameter to measure two side by side circles on your cardboard. If you are using a compass, set it to 1.5" so you'll get a 3" diameter.
In the middle of each 3" circle, draw a 1-inch diameter circle. These should look like donut holes.
Step 2B - Cut Out Outer Circle
Cut out the cardboard circles, and the insides of the circles. You can use scissors to cut out the outer circle and puncture the inner circle with the tip of your scissors and then cut the inner circle.
Step 2C - Complete Donut Shape
Our templates are complete - let's start making some pom poms!
Step 3 - Pick Your Pom Pom Colors
Choose 20 yards of yarn. You can use one color, or mix and match colors (eg. 10 yards of pink, 10 yards of purple). Get creative!
Step 4 - Let's Start the Pom Poms!
Wrap yarn around both circles held together, with a taut, (but not too tight) wrap. Keep wrapping around and around until you have used all 20 yards of yarn. (I love to do this while on Zoom calls)
Step 5 - Let's Finish the Pom Poms!
Cut the yarn all the way around between the cardboard circles (my favorite part!).
Slip gold thread between the cardboard circles and tie a knot tightly -- this should be at the center of the golden thread.
Remove the cardboard circles and trim pom pom as needed.
You can use the cardboard templates as a shaping guide to snip off extra bits and make it a nice little sphere.
Step 6 - Make the Rest of the Pom Poms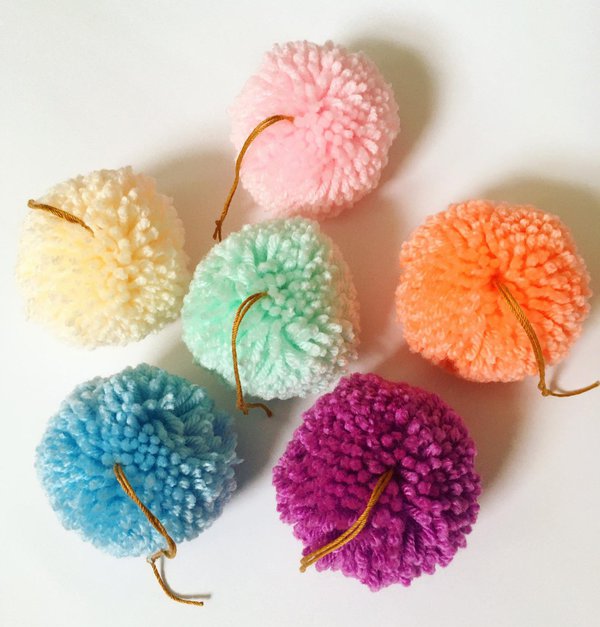 Repeat Steps 3 through 5 another 11 times so you'll have a total of a dozen pom poms. You should be able to use the same cardboard circles through all these steps!
Step 7 - Let's Make the Garland!
Lay the white cord on a flat surface like a table or your floor and arrange your pom poms (and rearrange, and rearrange) until you like the spacing and order. Tie onto cord with loose ends of gold thread.
Voila, you've made your pom pom garland! Yay! 🎉
🎉 Final Step: Show Off Your Work!
Post your WIP and finished project photos on Instagram. Add #crafticProjects and tag @crafticland for a chance to be featured on Craftic's social channels and newsletter.