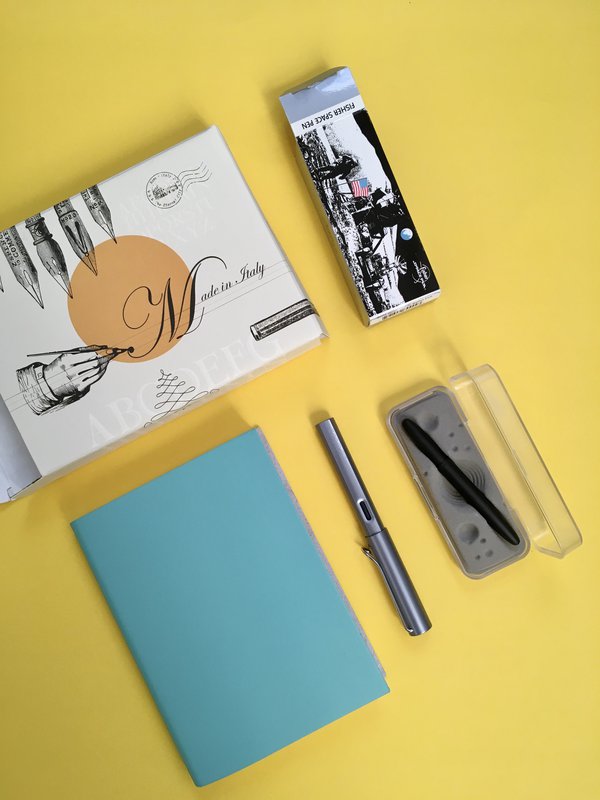 Today's review features some products from Pen Heaven - a UK-based stationery shop specializing in pens and leather journals.
A rep from Pen Heaven reached out and sent me all the products mentioned in this post in exchange for an honest review.
By the way, all of these items were shipped from the UK to Toronto, Canada. I received them fairly quickly and wasn't charged any customs fees - that's a win!
Keep reading because I have some fun goodies to share with you today!
Sorrento Leather Journal
Sorrento Leather Journal Product photo from Pen Heaven's website.
The first item I'd like to tell you about is the Sorrento Leather Journal.
Pros
If you're like me, you'll love the fresh leather notebook scent that you'll smell as soon as you take this cute notebook out of its packaging!
You can customize your cover with 2-5 characters if you'd like. I kept mine plain since that's my preference.
This journal is very simple and no fuss. There is no branding whatsoever anywhere on the notebook nor its packaging. So much so that I had to double-check my emails to confirm the brand name!
The pages are a nice off-white color but they're not yellow. This is my preferred shade of notebook paper since it makes it easy on the eyes for long-form writing.
I chose the turquoise color and it's very pretty in person although it's not as vibrant as the product photos. I'd say it's somewhere between teal and turquoise which I actually prefer.
Cons
My biggest criticism of this notebook is that it does not lie flat! I even tried bending it completely backwards to try to crack the spine (it was a last resort) but as you can see here, it didn't help much. If I placed the left cover directly on the table, the notebook would close itself on my hand. When it comes to notebooks, the ability to lie flat is high on my list so I was disappointed by this journal.
This notebook was smaller than I was expecting it to be. The listing title describes it as Medium but when you look at the details, it's actually between A6 and A5 size. It's a comfortable size but I was expecting a Medium size journal to be A5 size.
Lamy AL-star Fountain Pen
Back of pen test page for the Lamy AL-star Fountain Pen
Next up is the Lamy AL-star Fountain Pen!
Pen Test
As you can see in the image above, there was minimal ghosting and no bleed-through on the Sorrento Journal paper.
Pros
This fountain pen writes beautifully! The ink flows really smoothly and makes the writing experience just lovely overall.
The barrel is sleek and comfortable which makes it ideal for long-form writing. One helpful feature is the notches on the pen barrel to guide your fingers while holding it.
Fountain pens can be intimidating for newbies like me when it comes to refilling inks. The ink cartridges that come with the pen (5 total) are so handy and easy to use!
Cons
When ordering my pen, I didn't specify the nib size and was sent a Medium size nib. I prefer extra fine lines so I would've preferred if the size had been confirmed instead of picking one for me.
This pen only comes with blue ink refills. If you prefer black ink, you'll have to get the refills separately.
I'd requested the Cosmic colorway but received the Azure colorway instead. The grayish-blue pen is still very pretty but I thought I'd mention this.
Fisher Space Pen
Back of pen test page for the Fisher Space Pen
Last but not least, let's chat about the Fisher Space Pen!
Pen Test
As you can see in the image above, there was no ghosting or bleed-through on the Sorrento Journal paper.
Pros
This is a very sturdy and heavy ballpoint pen! It has some heft in your hand and feels like it would last for a very long time.
The matte black barrel looks very sleek and stylish. You could bring this pen to any professional setting.
This pen indeed does write upside down! Just like the astronauts. (If you're a Seinfeld fan, you'll know this episode reference!)
This pen is incredibly compact! While closed, it can easily slip into a small pocket and take up very little space. Once you place the cap, the pen is about twice as long as when it's closed. It's well-engineered and each detail is well thought out.
You can customize the pen barrel; I opted for no customization.
Cons
The pen barrel is perfectly round with no clip to prevent it from rolling off your desk if you're not paying attention. Understandably, you'd want a space pen without any unessential parts but for those of us on Earth, this isn't very practical. :)
It's definitely a pressurized pen - almost to a fault. The very first time I used this pen, I was happily writing with it throughout my work day. When I went to close it, the cap wouldn't come off. I tried twisting and pulling it off but it would. not. budge. I had to put the pen, still open, in my backpack til I got home where I asked my partner if he could try prying it off. He couldn't remove it either so eventually, I used a pair of pliers to finally remove the cap. Despite taking precautions to avoid damage, the pen was scratched up in the process. On the upside, the cap hasn't gotten stuck since!
All in all, I would definitely recommend the Lamy fountain pen since it's the most practical item in this set and you'll most likely get a lot of use out of it. The Fisher space pen is a pricey item that may feel gimmicky but it is a well-engineered and useful tool that would make a nice gift for any science lover! I'd cautiously recommend the journal - depending on if a journal not lying flat doesn't bother you.
I hope you enjoyed this review of the Sorrento Leather Journal, Lamy AL-star fountain pen, and Fisher space pen! Please let me know if you found it helpful by messaging me on social @crafticland.
Thank you Pen Heaven for providing these products for this review!